Update:
It is safe again to update using SYNAPTIC or APT-GET normally. (01-30-2012).
Do NOT use Muon or Automatic Updater, as it will hang during update, so use synaptic or apt-get for now.
Original message:
KDE got updated to 4.8 in the repositories.
Because of this please do not make a full update in netrunner until all issues are fixed.
Simply running a full update could break your system.
Before making any major update after installation, please run this first:
sudo apt-get install netrunner-system
sudo apt-get update
Then you're safe to update as usual.
A second method would be disabling the gnumdk manually:
Start synaptic, go to Settings – Repositories and untick those two lines: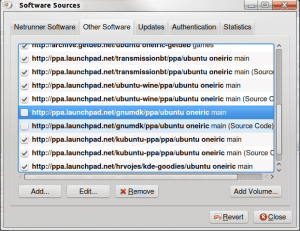 We are also working on a solution to fix this automatically without anything to do from your side.
Until we provide such a solution, please report any issues you still have after updating in our forums (link below). Thanks.